It is now possible to practice in groups of up to six people. Please read the more detailed document at the end of this post, produced following a committee meeting on 9th June, before booking and taking part.
The basics are:
The maximum number of participants is six. For juniors it is five plus a coach.
Communicate with other players then contact Mark Sutcliffe through the WhatsApp. group to book a session. Don't just turn up.
All participants must have completed a 2020 membership form available on this site and from Ange Murphy.
The same social distancing (2m) hygiene and sanitisation procedures remain in place.
You can book either the artificial net or the mobile net on the square. Please specify on booking.
The clubhouse will not be open.
Ring fenced senior nights (including ladies) are Tuesdays and Thursdays with three time slots.
Junior ring fenced nights are Mondays, Wednesdays and Fridays with three time slots.
If no bookings are taken for these time slots they can be used by any players.
Daytime and weekend slots are still available.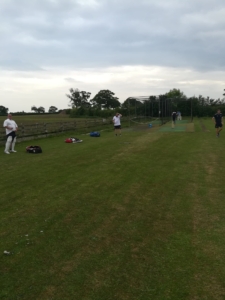 See detailed information here. Please read carefully. Thank you for making practice at SFCC happen whilst keeping participants and the wider community safe.
Updated 'Use of Practice Facilities at Shireshead Cricket Club under Coronavirus Restrictions'
PLEASE READ THESE NEW INSTRUCTIONS CAREFULLY
Following further Government and ECB guidance practice sessions can now take place in groups of 6 with social distancing restrictions still in place
Date: 10th June 2020
Note: This guidance will be updated and modified as and when new information is forthcoming from the Government and the ECB.
SFCC Committee have agreed the following non-negotiable procedures in order to comply with the latest Government guidance on sports to help keep people safe and reduce the potential spread of infection.
Please continue to contact coordinator Mark Sutcliffe on the WhatsApp. group named 'CV19 Nets Booking' or on 07894489731 at least 24 hours before practice sessions. Mark will need names of all those who are in the session group.
The session slots reserved FOR UP TO 6 PLAYERS are as follows:
SENIORS AND LADIES – TUESDAYS AND THURSDAY EVENINGS – 5.30 TO 6.30, 6.45 TO 7.45 and 8.00 to 9.00
JUNIORS – MONDAYS, WEDNESDAYS AND FRIDAYS – 5.30 TO 6.30, 6.45 TO 7.45 and 8.00 to 9.00 (Note – Junior groups will consist of a maximum of 5 players + a coach)
Bookings can take place for numbers up to 6 at any other time e.g. pairs or family groups and family groups still need a club representative present.
Mark will be keeping a diary for use of the practice nets. You will be able to specify if you wish to use the nets or the mobile net on the square.
There will be a 15 minute period between practice sessions to allow safe cross over between participants.
A club representative (a senior player or club official) is to be present at all other sessions. The representative can be a participant and they will be fully briefed about the protocols required
A membership form must be completed before any practice can take place. There is no fee to pay currently. Membership forms are available on request from Angela Murphy at https://shiresheadandfortoncc.co.uk. and should be returned to her at [email protected] at least 24 hours before use of the facilities.
These area also available from the Club website at  https://shiresheadandfortoncc.co.uk
NO NON-MEMBERS ARE PERMITTED TO USE THE FACILITIES OR ENTER THE GROUND.
PLEASE DO NOT USE THE FACILITIES IF YOU ARE SHOWING SYMPTOMS OF CORONAVIRIS OR HAVE BEEN IN CONTACT WITH ANOTHER PERSON WITH THE VIRUS OR SHOWING SYMPTOMS.
In the case of other individuals e.g. parents, they themselves are responsible for ensuring a safe two metres distance between individuals and for sanitisation procedures.
All equipment used must be only by the individual and not shared e.g. bats, gloves, pads, helmets. Equipment must not be shared.
Each person must bring and only use their own ball. The batsman must not handle the ball nor hold it near the face. Balls must not be shared. People must only field their ownball
Please make every effort not to touch the nets, posts and stumps. Disinfect with the equipment provided if you do.
Wash your hands before you come and when you get home. Do not spit.
There is a plastic storage box by the nets marked 'Sanitisation and First Aid'. There will be disinfectant spray and cloths available in the box to wipe down surface such as wickets and netting if they are affected by human contact. There is another box kept by the doors to the pavilion for use if the mobile net is being used. Please leave as you find and report if anything is absent (Mike Park – 07766016982).
There is a bottle of sanitizer on top of the blue box by the nets.  Use hand sanitizer before and after opening the blue box.
There will be no access to the pavilion, toilets etc.
Normal safety rules for wearing of helmets for under 18s apply.
Shireshead and Forton Cricket Club Committee (09/06/20)
PLEASE NOTE THAT THIS GUIDANCE MAY BE UPDATED ON AN ONGOING BASIS – CHECK WEBSITE FOR DETAILS REGULARLY