Shireshead firsts eased to an emphatic 102 run victory over Bare and 15 points to continue their ascent of the table.
Scorecard – https://shires.play-cricket.com/website/results/4420758
Shireshead toiled hard on a difficult, damp wicket not conducive to fluent stroke play posting 158 for 8 in their 45 overs. This was thanks to contributions throughout the order with another classy and patient 27 from 16 year old Ollie Wilkinson who has made the opening spot his own recently, and a fine 26 from a similar teenage prodigy Rob Skipworth. Matt Yates (12) and Jack Cunnington (18) put on 20 odd for the 9th wicket to post a very competitive total .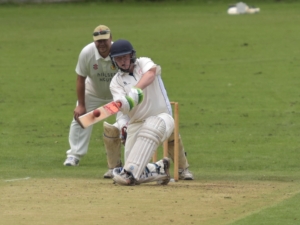 A Buttleresque slog sweep from Joe Oliver
In reply, Bare stood at 34 without loss at one point thanks largely to the immaculate stroke play of Andrew Butler (34), and Bare looked steadfast in their response. There then followed a familiar capitulation to the bowling of Dave Jack as the next 9 wickets fell for just 19 runs, Jack proving just too hot to handle ending up with 1.2 overs, 9 wickets for 15 runs, this being a club record. Jack has also taken more wickets this season than he has made runs – a remarkable performance !  Matt Yates took two smart catches behind the stumps and Joe Cunliffe supported well from the other end (1 for 17 from 8).