Shireshead Fillies dominated all of their three games against Arnside, Fulwood and Broughton and Carnforth to claim victory in the Ladies Area Softball Tournament held at Carnforth on Sunday 30th May. They amassed over 800 runs to take the crown, which was decided by the team who scores most runs over their three games.
The regular Friday night practices paid off as Shireshead bowled with consistent accuracy, fielded with discipline and punished any loose bowling. Running between the wickets was busy and catching superb. Debutant Sue Swire showed just how her regular practising has moulded her into an effective all rounder as she bowled with precision and pulled anything short to the boundary. Carrie Parkinson oozed class and her cover drives had the crowd purring with appreciation. Andrea Bookless kept wicket sublimely well and was responsible for one of the day's champagne moments as she plucked a slip catch out of thin air like a leaping salmon. Young Evie McBride stroked the ball to all parts and fielded with characteristic enthusiasm with her bowling improving with every match. It was great to see Laura Hardwick back in the fold and she hit several boundaries against Arnside with a fine catch to boot. Skipper Katie Oliver took the mantle of inspirational leader and exceptional batsmen and when she and Jess Burrow were together at the crease sixes and fours were aplenty, Jess being very, very, very pleased to win against her former club Carnforth.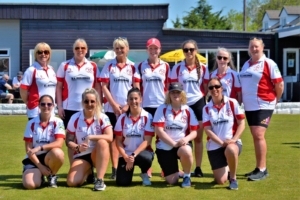 Veteran Emma Johnson was the pick of the bowlers on the day and bowled with pace and accuracy. She batted in her normal unorthodox but very effective way and was involved in champagne moment number two as she flung herself full length to stop a seemingly certain boundary and pushed the ball back infield. Amy Creed was up there with Emma as one of the most clinical bowlers with her metronomic line and length and it was typical of Lou to bounce back from some the receiving end in the Fulwood match to bowl so well against Carnforth and stop everything behind the stumps as she took on the mantle of wicketkeeper. Michelle Weir kept the family excellence going with a her immaculate bowling and boundless enthusiasm.
We must add huge thanks to Carnforth and organiser Anna Mashiter. A great day in the sunshine was enjoyed by all and further thanks to our Shireshead supporters who came out to cheer the team on.